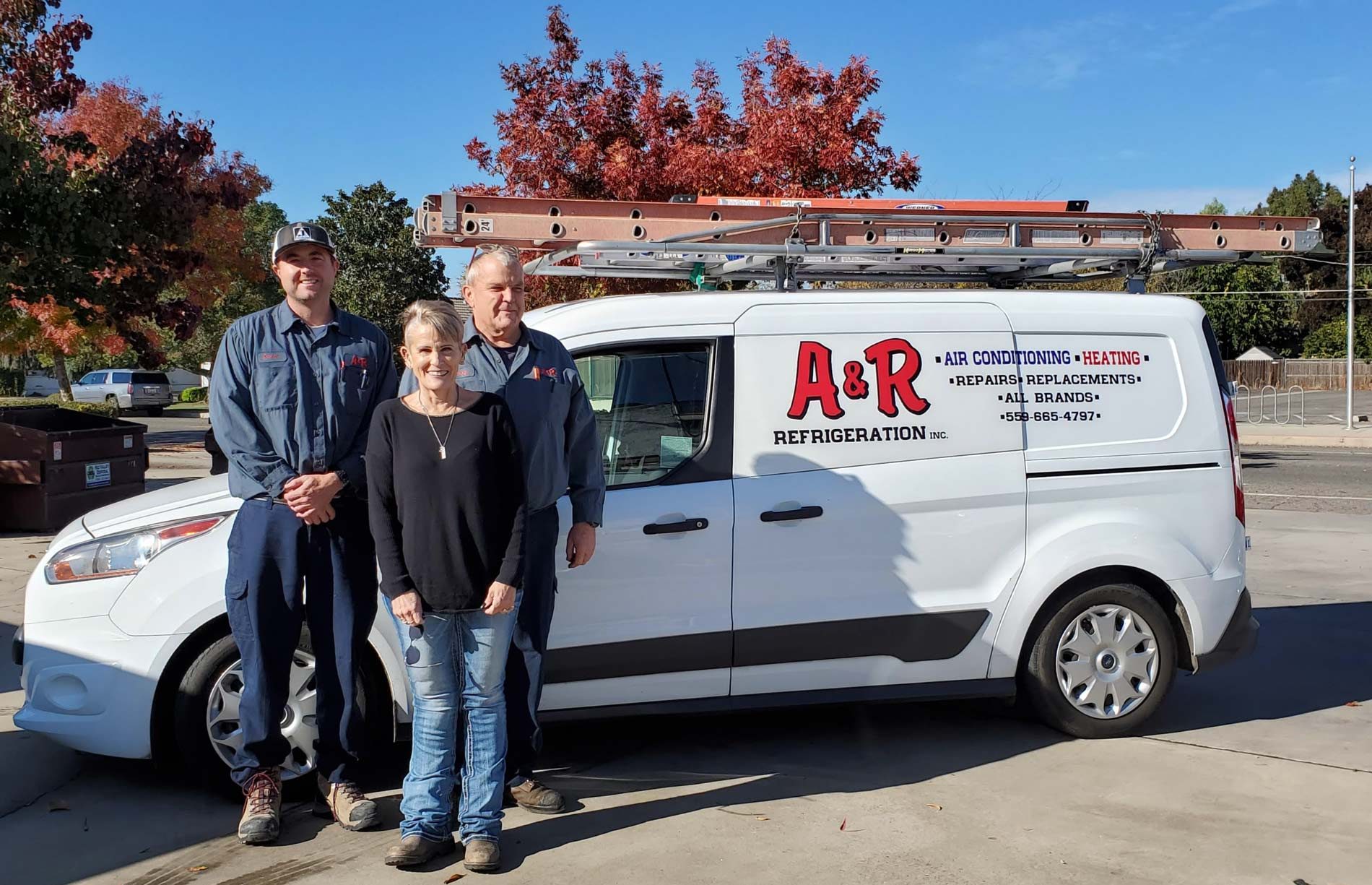 We're not comfortable until you are!
HVAC services for every season!
WE'RE HIRING
We are looking for an HVAC Technician to join our team! Looking for a qualified tech able to install, service or repair heating/air conditioning systems. Someone ready to grow with this company, with a drive to go to the top of their field…apply below.
Heating and Cooling Excellence, From a Qualified HVAC Company
Every homeowner needs to be able to rely on their forced air system for comfort and quality, no matter what time of the year it is. At A & R Refrigeration, Inc., we believe every Chowchilla, CA resident should be able to rely on their local HVAC company for superior service—the kind that keeps their forced air systems running right 365 days a year, for years to come. It's why we offer a complete scope of heater repairs and cooling services that address any need: from routine AC maintenance, to emergent repairs, to new installations and beyond.
If you're looking for a team of proven, knowledgeable HVAC replacement experts to service your climate control systems, look no further! We're a second-generation business that has a diverse background—we've done everything from dairy farm refrigeration to working as a home AC installer for homes across Chowchilla, Madera, Minturn, and Merced, CA. We always do the job right, the first time, which results in equipment that works harder, better and longer to keep you comfortable. Call us to maintain your AC unit after months of continuous run time or to put in a new water heater when yours stops providing the reliable hot water you need on a daily basis. Whatever it takes, no matter the scope of work, we're ready to do it right.
Join Our Maintenance Membership Program
Above all, we encourage Chowchilla, CA homeowners to call us for routine maintenance and HVAC system installation, and to join our maintenance membership program. We emphasize maintenance as the best form of prevention and the ideal way to get the most out of your heater and AC unit. We'll help you tap into the full value of your HVAC system, so you can live comfortably every day. And, if there's ever a problem, know that we're never far away!
Ask about our maintenance membership plan and get the most out of your system!
We've served residents and businesses across the Chowchilla area since 1960.
We're equipped for heating, cooling and refrigeration work: repair, service and installs.
We're a California State Licensed HVAC contractor (#704383) and are EPA Certified.
Our technicians have the skill and capabilities to service any brand or model HVAC unit.
We're Committed to Your Comfort
When your heating and cooling system doesn't work, your comfort suffers. Contact us right away to get these vital systems back in working order and restore comfort to every corner of your home.
Proudly offering HVAC replacement and HVAC system installation to the following areas:
MADERA COUNTY | MERCED COUNTY, CA, USA